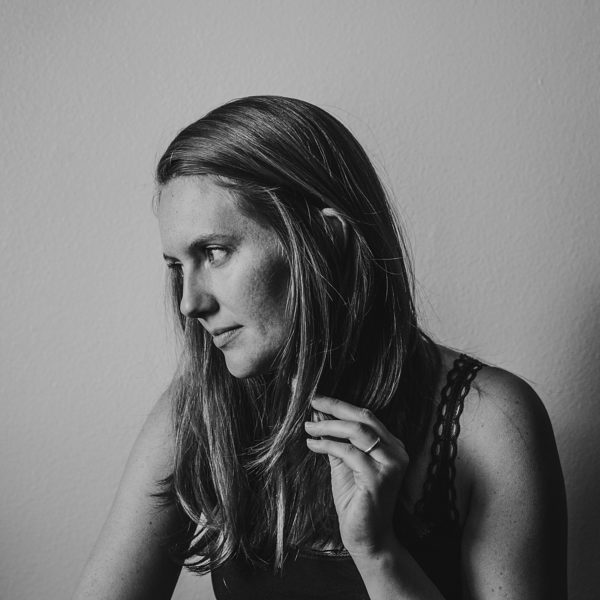 Tell me about yourself!
Well, since you're here, you probably already know my name is Macy. Yep, just like the department store. I'm a family portrait and newborn photographer located in Colorado Springs, Colorado. I shoot to reflect your family's unique dynamic and individual personalities in a natural and laid-back kinda way. Perfect-shmerfect. Let's take pictures to remember your family just as you are.
Three random things about yourself. Go!
I'm seriously obsessed with wearing blue and white stripes. I kid you not 90% of my wardrobe is blue and white stripes. The remaining 10% is grey and white stripes. I exaggerate. I do own other things, but stripes are my jam.
I often find myself counting my steps when I go up and down staircases. It's like I hit a staircase and my brain autopilots to count. Usually it's completely unintentional, so I won't really realize I'm doing it. I just keep counting subconsciously. I'll be in the middle of a parking lot getting into my car and counting 134, 135, 136, and it hits me…why am I counting??
I once memorized 500 digits of pi. I was a math major in college. Nerd comes with the territory I guess. Probably where the step counting comes from too. That or minor OCD tendencies. Anyway, I digress…
Are you married? Any kids?
Yep. I met my husband Austin in our church youth group back in high school. We liked each other back then, but we were both really shy, non-dating types so things were just a little awkward. Oh, high school.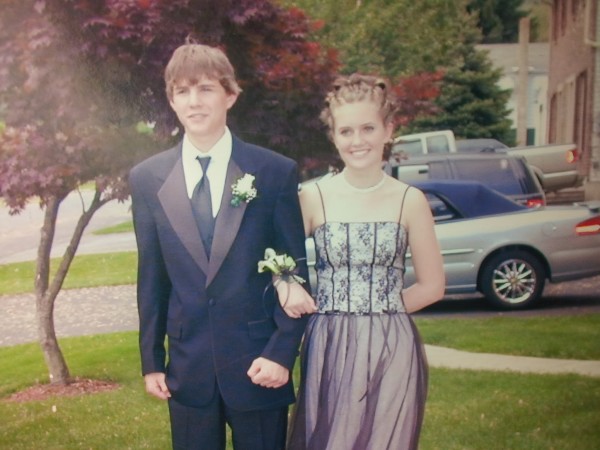 We went to different schools, but I did work up the courage to ask him to my junior prom. So we've got this awesome picture to remember it by (don't mind the terrible scan job). That hair though. That's what got me, haha.
And we just recently had our first baby, Simeon. I seriously love all kids, but come on… your own? The best. I had two miscarriages before he came along, so having him here with us is one of the greatest gifts I've ever been given.
Have you always lived in Colorado?
We moved here from Pennsylvania. My husband grew up there his entire life, but I've lived all over. California, Texas, Vermont, Maine, New Hampshire, Pennsylvania, Ohio, etc. My dad was in the Army when I was a kid, so we moved a lot. But we're here in Colorado Springs for now, and we love it!
What's one or two unique things about you?
I've traveled a lot. I've been to over 20 countries, and I've even lived in South Korea, China, and Uganda. There are places all over the world that I love, but my favorite place of all is Lake Willoughby in Vermont. My grandparents had a lakehouse there, and it's just so serene and lovely. The summers are the perfect temperature and the falls are to die for. The colors! It's just gorgeous.
Another unique thing…I was in a plane crash in Belize. We ran out of gas, fell 800 feet from the air, landed in a mangrove swamp, trekked 45 minutes through the swamp which apparently houses crocodiles. Glad I didn't know that until after the fact. Then we were airlifted in a helicopter. Pretty wild.
Have you always been into photography?
Nope. Haha. I feel like that's not what I'm supposed to say as a photographer. I got into it gradually. You naturally take pictures when you're traveling, and I think it was when I was backpacking through Southeast Asia when I first started using it as a tool to express something more than just like "oh hey there's the Mona Lisa on the wall in the Louvre… I'm gonna take a picture of it 'cause that seems like what I should do." I seriously have that picture of the Mona Lisa, and really, I'm glad that I have it. But you won't find it hanging on a wall in my house, haha.
I think as a photographer, my job is to not only take a picture so that you remember a certain point in time, but to take a picture that you find beautiful and charming enough that you hang it on the wall and remember that moment in time. And what makes it beautiful and charming? I think it's the emotion that it evokes and how it can take you into that moment. I found a quote once by Edgar Degas that says, "Art is not what you see, but what you make others see." That's what I'm after – to document life and childhood, to show the bonds of love and relationships that exist in families, and to help others see that as well.
Any final words?
If you're still reading this, wow, thanks! Thanks for coming by and checking out my website 🙂 I hope I get the chance to meet you and photograph your family!